The Vintage Girl Scout Pin Museum #1 is generally dedicated to the official pins of Girl Scouting.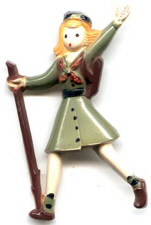 1945-1948
The Mission of this Web Site:

To provide a useful resource in the identification of historical and current Girl Scout pins and other items, for Girl Scouts and Girl Guides worldwide.


Click on the button to learn about the
Girl Scout Rose
Site Launched
November 18, 2000



Learn how to date your
vintage GS pin
on the Official Pins page
GS Hatpin
1917-1920
Learn the difference between this
rare GS Hatpin of bronze
and the GS Uniform pin from the 50's - check out the Adult Pin page!


This website is unofficial.
Girl Scout words, pins, the trefoil shape
and other items are trademarked
to GSUSA.